Can a dog really make a difference in your child's life? I personally grew up highly desiring a dog, but was never able to get one. I ended up with a cat, and wondering whether a dog could really improve our life. I'm happy to share with you this super interesting guest post by Paul Andrews of The Upper Pawside
The relationship between a dog and a child is one of the most adorable things you'll ever witness. Dogs and kids are alike on so many levels after all – both exhibit a natural curiosity and playfulness that compliments each other.
So, is having a dog good for your child? Let's discuss this further and explore some of the core reasons dogs can make a real difference in your child's life, that you could consider if you're wondering whether adopting a dog for your kids.

Can Dogs Make a Difference in Your Child's Quality Of Life?
Time and again, studies have proven to us that kids who grow up with or around dogs are happier, better socialized, and better behaved than kids who don't. It's true that some dog breeds aren't as comfortable around kids as others, but overall, a dog is a kid's best friend and teacher.
According to a major Pediatric Research study, 'Children from dog-owning households were 30% less likely to engage in antisocial behaviors, 40% less likely to have problems interacting with other children and were 34% more likely to engage in considerate behaviors, such as sharing.'
These are obviously key behavioral differences that make huge differences in a child's life and can have lasting effects that lead well into adulthood.
Besides offering an entire lifetime of unconditional love and protection, dogs are responsible for creating a stimulating environment for kids. Kids who indulge in active play with dogs or those who walk their dogs every day imbibe good social habits early in life. Children growing up in dog-friendly households also learn the value of kindness and sympathy, especially with those different from them.
In most cases, children and their dogs are just an extension of each other's personalities. Kids who have suffered from traumatic experiences can find solace and peace in the company of dogs. If your kid has ADHD or autism, emotional support dogs can help improve the quality of your child's life by lending a helping paw.

Benefits Of Having A Dog
The list of benefits of having a dog for a child is endless. Most dogs are protective and understand the relationship between you and your children – as long as they are properly raised and trained, there's no need to worry about letting them interact with young children. Here are some of the reasons to get a dog for your kid.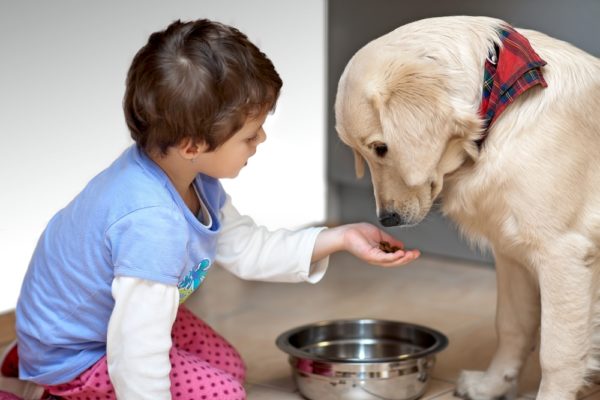 1. Teaches Responsibility
The act of looking after a dog can make a kid feel responsible and important. By doing just the routine tasks like feeding the dog, giving it a bath, caring for its health and making sure it gets its daily walks and exercise, your kid learns the most basic and vital life skills.
Raising another living being like a dog can also help improve your child's decision-making abilities. By being accountable for a dog's wellbeing, children learn to take responsibility for their own actions as well. Learning always begins at home and a dog is the best teacher your kid could have.
2. They Offer Protection
No matter the breed, dogs are fierce protectors. It comes naturally to all dogs to stay near a child whether or not the child is alone. If you raise your child with a dog, you'll find that your dog is always at your kid's side.
Because dogs can sense danger creeping in, they will do anything to keep their human friends out of harm's way. In some cases, dogs can also aid kids who are subject to bullying during playtime. If the dog senses that your child is on the verge of a breakdown or a bout of anger towards other kids, it will intervene to break up fights and protect your kid from unnecessary trouble. If only they were allowed at schools!

3. Comfort And Companionship
Nothing beats the level of comfort and companionship a dog brings to any relationship. When a kid and a puppy grow up together, they are nothing short of best friends because dogs understand emotions and vulnerability in children deeply, and will offer affection when they realize that your kid is going through a rough time.
No matter the situation or time of day, dogs act as instant stress-busters for kids as well as parents. Children who've experienced trauma can look to dogs for constant emotional support.
4. Higher Self-Esteem
Do dogs give kids confidence? In one word, yes!
Dogs boost confidence in growing kids because they are incapable of forming judgments. Dogs don't criticize or demean their loved ones. On the contrary, they lift their spirits up and cheer you on.
Kids who have trouble reading out loud in front of the class, often feel more comfortable reading out to dogs. There's no right or wrong with dogs. They always patiently listen without correcting or evaluating your child. This quality in dogs makes the child more confident and comfortable.

5. Lessons In Compassion
Caring for another being, especially in tough and painful situations instills compassion in children. When dogs get hurt or when they age, children come to learn about how valuable life is.
Wondering how having a pet affects a child? By watching a dog develop and mature, children learn about kindness, generosity, and unconditional love.
As they age, learning about death and illness is an important life lesson kids take on when they live with dogs. After having experienced such a profound sense of loss, children develop a stronger grasp on their emotions and become more compassionate.
6. Better Immune System
Studies show that kids who live with dogs are less susceptible to allergies.
Kids who have asthma benefit from being near dogs frequently. In many ways, dogs strengthen your child's immune system and prevent a range of illnesses.
7. Improves A Child's Social Skills
It's interesting to see how engrossed a child can get in taking care of a dog. In the process, your child learns to take charge and lead. This way, dogs help improve a child's social skills early on – it's good to have a dog with a baby as this gives them a good head start in life.
Making new friends is an essential part of growing up. On dog walks, kids interact with other people and animals in a social setting and develop more holistically.
Thanks to child friendly dog breeds, kids explore some creative skills during grooming sessions, too. Bathing dogs, brushing their fur, and leash training are fun ways in which your child can learn about personal hygiene and tidiness.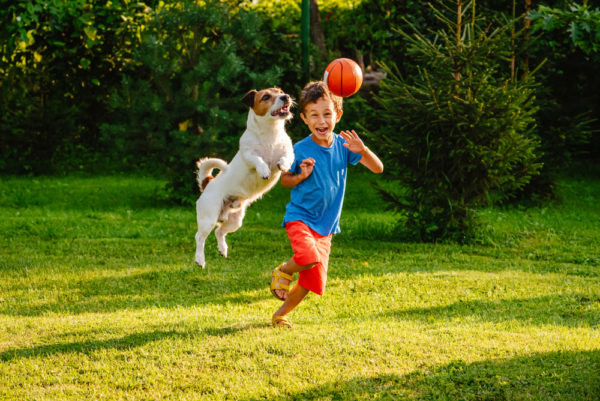 8. More Play And Exercise
Just like kids, dogs are relentless when it comes to playing and releasing energy. With a dog around, your child will never need a friend. Dogs are always up for games, running around, dog walks, and any kind of physical activity.
Their thriving personalities and high energy levels will keep your child active, fit, and happy.
9. Teaches Selflessness
Kids are good to their dogs and others even when no one is looking. This happens when your kid grows up with dogs. Dogs have an immensely positive attitude toward life. Dogs are all about unconditional love and children watch and learn from dogs. This is why every child should have a pet.

Final Thoughts
Dogs have unique characteristics spread across various breeds in the canine universe. When picking pups for your child, consider adopting breeds that are manageable and child-friendly.
Some of the best dog breeds for infants include Collies, Golden Retrievers, Spaniels, Bulldogs, Terriers, and Beagles. Now that you're aware of the benefits of having family dogs, bring home the breed that's best suited for your home.