You've probably wondered at least once in your life as a parent.. why my kids cry whenever I leave ! Even when it's just for a short time? Even when they're having fun? Attachment theory can help us understand this. Can it maybe help us feeling less guilty? 
DISCLAIMER: I've learnt from different sources, but one of the most significant and richest was the online course that Edx provides on Developmental Psychology that I followed. I did not directly take material from this course, I only took notes and memorized the contents. If you're interested, I highly recommend this course, it's very interesting. 
The perfect mother doesn't exist, however…
I don't know if it's because I'm woman, or because I had a Catholic education, or if it's just my temperament, but guilt is a recurring sensation in my life. It is even more so since I've become a mother. Perhaps I see myself in my children, I relive my childhood in them.. And my expectations on which mother I'd like to be are (maybe) too high. The feeling of being inadequate, is just around the corner.
One of the most difficult moments for me is bringing my children to school. I turn around quick and leave while they cry out desperately because they want to be with me.
I know that they will stop thirty seconds later, but.. And I know that they have fun, and learn a lot at school. And I also believe that having an activity of my own is essential for my mental balance (and therefore also for theirs) !
Bad mother. Why don't you keep them at home with you? Or don't you do more things together? And why did you scold them this morning when you came to school?
The nursery school they attend at the moment is great, they ask me to go there on weekends, sometimes they don't even want to come back home when I pick them up.. and yet in the morning they cling to me and cry.
And so I ask.. why my kids cry whenever I leave, but not when it's daddy who takes them?! And why sometimes I can't even go to the toilets for 5 minutes? or leave on errands for an hour? 
What is attachment – a little theory to better understand why my kids cry whenever I leave
I've found an (at least partial) answer  to this – sometimes annoying – phenomenon in the theory of attachment, which I think is particularly fascinating.
This theory was developed by John Bowlby in the '60s and' 70s, and then later reworked by his collaborator Mary Ainsworth.
According to this evolutionary theory, from the very first days of life infants develop, or are biologically driven to develop, a bond with their mother (or their caregiver) in order to obtain security and protection.
Depending on the type of response that the mother or the caregiver provides to the requests expressed by the newborn, he will form a kind of bond, or rather a form of attachment, which will create the basis for future relationships that the child, and then the adult will reproduce in the course of his life.
It will also be the basis for the mental reproductions that the child will create of himself, of others, and of how he feels seen by others; it serves to regulate stress and emotions, and to protect the child from excessive stress. In a certain sense, it constitutes a primal form of learning about oneself and one's emotions.
How did we get there ?
Let's take a step back. Before this theory was presented and subsequently validated, most people believed in Freud's dependency theory, according to which newborns form an attachment to their mother or caregiver, solely because she is the one that satisfies their primary needs.
John Bowlby spent the early years of his career working in orphanages, which were often managed in application to this Freudian theory: the staff mainly dealt with the primary needs of children.
Yet, the orphans ended up growing "problematic", with learning deficits, etc. It took time for research to advance in this sense, and to understand which were the causes that brought children who grew up in orphanages to grow as "difficult" adults, with more problems than children raised in adoptive families. The studies carried out by Bowlby turned out to be "revolutionary" in this sense.
Evolutionary speaking, it seems to me rather logical.. The mother (or whoever takes her place) is a source of security, and allows the child to grow up healthy until adulthood. So as he grows up, the child remains close to his figure of attachment, because she protects him from all dangers.
In fact, children are born with the capacity to recognize the sound of their mother's voice, and are equipped with an olfactory and visual system allowing them to recognize their mother's their faces and smell (and to prefer it compared to the smell of other people).
Daily validation
Have you ever noticed that when the children start crawling, or taking their first steps, while they are exploring, they turn around and look at you to check whether you are still there, and seek your approval with a conspiratorial smile?
Moreover, I had not made the connection at first, but have you noticed that this is also the period when the children start to get desperate as soon as you move away? When they are suddenly afraid of strangers? The period when they are more reluctant to go onto other people's lap?
The behavioral system as described in this theory is reinforced when the baby is about 7-9 months, when he begins to explore his world alone .. When he therefore needs to know that his source of security is nearby, ready to intervene whenever needed. And over time, he learns that he can gradually move further away, little by little.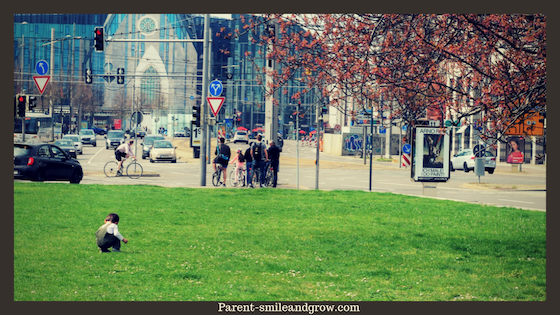 Now, how do I know whether my child has formed a "good" attachment to me? And what types of attachment do exist?
Types of attachment – the experiment
Mary Ainsworth, who developed an experimental technique to analyze and categorize the relationship between mother and child, began to answer to these questions. Her experiment, called "Strange Situation", involves leaving mother and child in a room full of toys.
After a certain time a stranger comes in, speaks a bit with his mother, then interacts with the child; after a few more minutes, the mother leaves the room, leaving her son alone with the stranger. Then she returns, and the stranger goes. Another few minutes, and the parent goes out again, leaving the child alone this time. Finally the parent returns, and the experiment ends.
The 4 types of attachment
From the analysis of the children's behavior in this situation, 4 types of attachment were found :
Secure

 : the child can lean on the mother (or caregiver) to get comfort in a stressful situation; in his/her presence, the child shows interest for the stranger, but in his/her absence, he cries and looks for him/her, he calms down only when she / he comes back.

Insecure anxious / resistant

 : the child exaggerates his reactions to regain his proximity to the attachment figure. The child shows signs of distrust for the stranger even in the presence of his mother, and is inconsolable even after her return.
Insecure avoidant : the child down- regulates his reactions in order to maintain proximity with his attachment figure. The baby shows little interest even for his mother, does not show any special reaction either when she leaves or when she comes back.

Disorganized

 : the child is not able establish a regular behavioral strategy.
These attachment styles can also be applied to adult relationship: you can read more about it here
No judgement please!
I'd like for you to note that there isn't a notion of good or bad attachment. Besides, there also exist other theories; and the results of this experiment partly depend on the cultural values of the parents (they may therefore change according to the country we're in).
It's important to underline this I believe.. Up to date, I'm still wondering from time to time what type of attachment my kids have formed towards me. I still as my self why my kids cry whenever I leave, even though they're older.
My son sometimes still cries when I leave him in preschool, and I can't help it but feeling guilty and wondering if I have it all wrong..
How is attachment formed?
And why do newborns develop a particular type of attachment to their caregiver rather than a different one? It depends on the type of response they repeatedly get when they manifest their needs.
They cry : because they're hungry, have a stomach ache, are cold, warm, sleepy, want to be cuddled, their diaper needs to get changed .. The initial difficulty for a parent is learning to understand what the baby is communicating with this crying.
The baby is stressed, and is completely dependent on his caregiver to return to a situation of comfort and security.(Read here to learn more about a baby's brain, and here for a reflection on needs)
Reactions and styles
If the parent learns to interpret his child's needs correctly; if the parent responds to his call; then the child learns that in case of need, the parent is there to help him. I cry = mom arrives and solves my problem = I'm fine again.
But if mom (or caregiver) does not understand, and she tries everything, the baby cries even louder. And if mom is tired and sleepless, she gets exasperated and maybe angry and frustrated. When this happens repeatedly, over and over, maybe the baby learns that when he cries, his mother gets angry and goes away. So he tries to limit his reactions and cry less, because he wants his mom to stay.
Or, maybe mom has no time, is doing something, or simply does not think she should run when baby cries. Maybe she will only get up after the decibels of his crying have passed a bearable threshold. When this happens repeatedly, perhaps baby learns that he must cry louder, and longer, to get an answer from mom.
The disorganized type is more difficult to describe, but it may in part arise when the caregiver's reactions are unpredictable. Sometimes she comes right away, sometimes gets angry, sometimes waits long before intervening, so the baby does not know what to expect.
What about us ? What attachment theory can tell us today
This theory fascinates me because in its simplicity, it is very profound. It has multiple implications that go well beyond the simple survival goal. It touches us in the deepest, in the unconscious image we form of ourselves and of how valuable we are; in how we handle strong emotions and difficult times.
It amazes me because it says that our first relationships shape who we are. At the same time, there is room for changes. A perfect expression of the coexistence between nature, or biology, and the environment, or nurture.
From a long-term perspective, it is important for our society to give all the support to new parents so that they can get in tune with their babies.
It also implies the importance of an appropriate attachment figure in all places where young children are taken care of, such as nursery schools, in the absence of their mother.
Attachment can change over time, and can also vary according to the person to whom the children get attached to. This brings hope. Also because, without considering extreme cases, there is no notion of "right" or "wrong" attachment.
THE PERFECT PARENT DOES NOT EXIST !Stop feeling guilty and go on observing our child
New parents, this message is for you. If you only want to keep in mind one thing out of this page :
Put all of your energy into observe your baby, getting to know him/her. Just be with him, without fears of any kind. Breathe. With patience, you'll learn how to follow the cues that your baby gives you, and to interpret them.
With all our imperfection, we are the perfect parent to our child.
To conclude, it seems to me a fundamental theory to rethink our relationships, and our reactions to our children. Reflect on how our history influences our present and our future.
So what do you think? Did you already know this theory? Have you experienced it with your children? Tell us all about it!