Hi Grandma.
I find it difficult to start this letter; sharing your memories seems childish now that you can't read my words; let others read what was thought around you. And yet the idea of writing to you has not sprouted by chance; it'll be a message in a bottle, thrown in virtual waves.
I'm still angry you left. When I try to bring back to my conscious self some sharp images of you, the pain is so strong that I cast them away.
These days you would have turned 90. My kids don't know who you are. I tried to find valid reasons not to write to you. But deep down, I heard I still had something to say before I could let you go. Why now, after more than ten years? I don't know, grandma. I have probably discovered the message that I hope will come to others' heart, if not to yours.
Sharing your memories : On being a good person
Grandma Ivana. Your name already tells a story. Why were you baptized Giovanna, Jeanne, and then called by all Ivana? What name would you have wanted for yourself?
You were always considering others' desires, and seldom what you liked, what you wanted.. Growing up, you were on my pedestal of the Good people, the truly Christian ones.
Sacrifice of self… The ideal, I thought, to which to strive. Until I saw you without even enough strength to open your eyes, and I realized that by dealing with everyone's needs, you forgot to listen to yours; To the point that I didn't have enough time to truly discover who you were.
You know grandma, when I think about you, I don't recall scenes from the last few years, when we lived together. There were other frictions then.. No, I return a little girl.
I can smell your bread in the oven when we'd come back home from school, those weeks when you visited us in Genoa. I see the little blue cup with the handle where you used to dissolve the yeast, knowing the exact doses by heart.
Remember the little bear-shaped mini breads in which you left us turn the dough into? which then once cooked were no longer recognizable; but we girls tried every single time..
Sharing your memories : colorful origins
I hear your festive voice hugging me and exclaiming "Lepi moj", my beautiful, those few words of Croatian or of Fiuman dialect that revealed your past. Grandpa was the only person linking you to your old world, that Fiume* that no longer existed. You didn't share with us your linguistic richness, except for the few words that betrayed your origins.
"Muchela!", stop it.  Brisnaja s Tobom (That's not the way you write, I could not find the correct version of the sound I remember so distinctively; but you told me it meant "Poor me with you")
Tell me about the time you were a kid, grandma. Of your Father Franz, of Hungarian descent, the best shoemaker in town, you remembered how he'd imposed on your mother the rule of always preparing an extra dish of soup; so that if someone, hungry, had knocked on your door, you could have always offered him something to eat.
Your mom protested at times, but Franz said "No matter who comes and asks for help; they are free to do as they wish with their lives. But I will always give them food, because that is my conscience, my responsibility. "
Even your memories of him were distant, me little girl trying to bring back memories of you little girl.. Memories imprinted when you were 9.
Sharing your memories : the war as a child
Then, there were the tales from after his death, and of the war. When you had to walk several miles to fill your bucket with fresh water. I have a clear image of how I pictured you while walking on a dusty road …
Your "German aunt" appears, the one who owned a restaurant; if my memory doesn't fail me, you went to live with her after a bomb in the middle of the night destroyed your house.
"I was so tired that I hadn't heard the alarm, and I kept on sleeping. Luckily my sister dragged me away just in time. Afterwards, the house was no longer there. " You recalled all this in a normal, calm tone of voice; of the days and above all, the nights you spent in refuge. I imagined a kind of dark cave in which you sat with blankets on your shoulders and a fire to enlighten..
I was looking forward to the next part, the one where your sister, engaged to a marine captain of whom she was in love, breaks the engagement for the shame of having become poor and without dowry or kit.
Sharing your memories: The story in your stories
These were our stories, there was no difference between Little Red Hood and Your Childhood. See? I hadn't really thought about it. It was you, and that's all: for the children there is only the present as the unique truth; And the absence of any strong emotions aroused no amazement.
All the images that make up your story in my mind could come from a movie, or from a book; but maybe in this case I would have forgotten them. Instead, they come from your voice that for infinite times crept into my circuits, and so it stayed.
There are still, grandma, the bad episodes. When you argued that you were afraid of Tito's Communists, "because I saw what they were doing to people." The bodies thrown in the Foibe. And even when you witnessed the rescue from a group of Jews I don't know anymore if by a German doctor or entrepreneur, who hid them somewhere and maybe even made them have false documents. Stories that redraw the outlines of history.
Sharing your memories: a woman at work
Only on one occasion have you not skimped on the shine of your pride, your fierceness. It was when you talked about your job. I strive to remember, to reconnect the dates.
It had to be at the end of the war, you were 17 years old in '45; when you found an occupation as the payroll responsible of a factory. You were happy when you could help a worker, and also to contribute to the livelihood of your family, now that the men were gone.
Why didn't you look for a job when you ran off to Italy with grandpa? I saw your eyes were lit up. One of the many cancellations of you, grandma, to other people's wishes? It's that how you started forgetting yourself?
But you were supposed to be so young, you and Grandpa.. You repeated many times that you have been 6 years apart, between before and especially after the war, when grandpa was already in Italy, in Trieste, and you still in Rijeka, the borders in the meantime were no longer the same.
Here, you see grandma? I have so many questions yet, the questions that come when you too experience things and your level of understanding takes on new spaces, the colors thicken. And I've never written your stories, I can only devise a fantastic answer that is true because no one can say otherwise. I try to pull the last row, you know like when the kite twine is the only subtle force that prevents it from escaping and falling back to the ground just beyond.
Sharing your memories: your endless Journeys
I always wondered about your travels. "Tell me about when you saw the lion in the Savannah! Weren't you afraid? Tell me about when you went on a camel ride! And where were you when you saw the penguins? I dreamed of leaving to explore the world, as you did. Grandpa used to say "there are few countries where we have not been, you can count them on your fingertips!"
But now, you know, it seems to me that the times where you listened were more than the ones you were talking. Who were you, grandma? How can I do now that of you it only remains but a kaleidoscope of interconnected pixels in my head? What happens if I've mixed them all up? If what I see no longer corresponds to you?
Sharing your memories: the confession
There's a shadow grandma, it's my rage I know. Rage for what? Your illness wasn't a tragedy. A deep pain, yes, but not many are so lucky to reach their 20s with their grandparents alive. So many never meet. Some even lose their parents or siblings. Losing grandparents is the flow of water to the sea; How to get angry because it rains or the sun shines?
Maybe, grandma, I felt you didn't fight. Like you never rebelled against anyone. Your choices, grandma, were to erase your desires to indulge those of others; Until they became yours.
The disease a fungus that has prospered in the woods of your unheeded needs.
Did you really like making bread? Cook for us? Sew our dolls' clothes? Play pretend at the school? Let us sleep in the sofa-bed with you? Come and spend the week with us when Mommy asked you? Or was it all a sacrifice for us? How do I know now? What am I going to tell my kids about you?
Make the poppy seed strudel, you liked that. And the sweet Pinza. You also liked watching black and white movies with love stories in costumes, we spent so many hours together! Grandpa went out of the room, especially at the millionth time we'd put "The Sound of Music", recorded in cassette and almost consumed. You stayed with us little girls and we sang together.
Remain, of your passion, the many, infinite cross-stitch paintings; they're still hanging in their place in Grandpa's house. The last one left unfinished.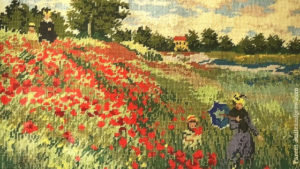 Sharing your memories: Come back and let me remember
I wrote too much. Rediscover my expression in words made me regurgitate rows. I wanted to tell you.. that I would need you to hug me again. That thirst for physical protection never left me. I really want to smell your sweaters. Ask you all, all over again. The only inheritance that matters.
You can't know grandma. That while we waited with you that your body would let you fly away, in that July's afternoon.. I don't even remember if it was hot, but I guess so, the Milanese summer is always a little stuffy.
I alternated glances to you, to us all around, and to the garden outside the clinic window.
Edith Piaf sang in my head. "Emportés par la foule qui nous traîne, nous entraîne, nous éloigne l'un de l'autre / Je lutte et je me débats, Mais le son de sa voix/ S'étouffe dans les rires des autres /Et je crie de douleur, de fureur et de rage / Et je pleure" **..
Here, I just hear the opening notes and I feel the tears cover my face. That song accompanied me all day, who knows why… We never listened to it together. But now, grandma, this song is yours.
I have to go wake the kids now. Come and visit me again in a dream.. I'm not ready to let you go yet.
Here, wait! Grandma, and all of you who read me:
Never stop telling your stories. To speak your mother-tongues. Don't hide who you are, where you come from. Today we are a piece of you.. We are because you were. We will only be tomorrow if we learn something from your lives. Don't let your dear ones forget you.
Notes
* Fiume, today called Rijeka, is a city on the Adriatic Sea, with rather a troubled history. It was a member of the Kingdom of Hungary (and therefore of the Austro-Hungarian Empire) from 1779 to 1919; from 1920 to 1924, it constituted the free State of Fiume; it was then annexed to the Kingdom of Italy from 1924 to 1945, during my grandparents' childhood. In 1947 it became part of Yugoslavia, and since 1991 it belongs to Croatia. (Source: Wikipedia)
** La foule, by French singer Edith Piaf: taken away from the crowd that drags us, leads us, we move away from each other/ I fight and I struggle, but the sound of his voice/suffocates in the laughter of others/and I cry of sorrow, Fury and rage/And I Weep "
To read other stories of migrations, maternal love and cultural and linguistic multitudes:
And you remember who your grandparents were? What do your origins say about you? Share this message to all the grandparents you know !