Renown fact: nothing sweeter than the smile of a child, right? If you often spend time with a kid, you'll also be familiar with that feeling of light warmth that fills your cheeks when a child, whatever the age, smiles at you. It just gives a sense of pride, as if we had accomplished the day's mission right? And if it's your child, what an even nobler mission, than to make him happy? We often identify "making a child happy" by buying her something new, or letting her win a battle… But in the long run, are those the things that can make children smile from within? What are the little gestures that will change their day (and the people around you as well) ?
Is it easy to make children smile ?
When we come home from school, it's usually quite late. In the course of the day, I pile up a long to-do list to finish. You know, the classics : put the groceries away, take care of the laundry, and so on.
And inevitably, as soon as my kids notice that I'm starting with any of these, they come up with a very tender request, like: "Mom please, I really want to do some painting, can we do it together?" Sweet eyes and innocent look.
And I picture myself pulling out the equipment, drying the colors, chasing my little one before he repaints the white hallway's walls with his hands, and then wash all the taps .. And I often say no, looking for anything that could distract their attention.
"Mama, can you read me a story?" While I'm still wearing my coat, the phone shows 45 unread messages, it's almost time for dinner and the table is still set with breakfast.
You know what? Now, if I had to say the most beautiful smile I can think of on my children's face, it's when, unlike my usual refusal, I once happened to say, "Okay."
I forgot about the messages, the frozen food in the shopping bags, the dinner to be prepared; accepting that it would then be late, that there would be consequences.
We sat right in the middle of the hallway, and we read the whole story. I made my son so happy at the time, just by accepting the imperfection of everything else.
What are the little things we can think of to make our children smile and happy?
If you want to make children smile, learn to love Imperfection and Improvisation
I asked my daughter a thousand times not to draw on my notebooks, or on my work planner.
As a passionate artist-to-be, my request is a rather difficult one to comply for her : as soon as she sees paper and any means of writing, the impulse is automatic.
One evening, all together in the living room, I noticed some colorful marks on my note-taking pad.
"Didn't I ask you not to draw?" I snapped at her before reminding myself to breathe, step back, count to 10 etc.
"But mom, I thought I'd draw you a little heart so you can see it while you work" and only then did I really take a look at what she had drawn; I noticed the heart, and my heart melted.
(And I obviously felt so bad, and apologized immediately).
The following days, looking at the fluorescent green heart made with my marker, I forgot that yes, my daughter had broken the rules.. To leave me a happy thought.
Happy or Quiet?
Did you ever let your son play in the mud, or in the rain?
Since where we're living, the school requires that we bring waterproof clothes as they bring the kids outside with any weather, I got used to the idea.
And one day, my son even told me "My favorite days are when it rains, because so I can jump into the puddles!" and I saw them, chasing each other and throwing themselves into the mud.
Yes, I'll have to wash, provide proper clothing.. What if I jumped in myself, as a new version of Mummy Pig?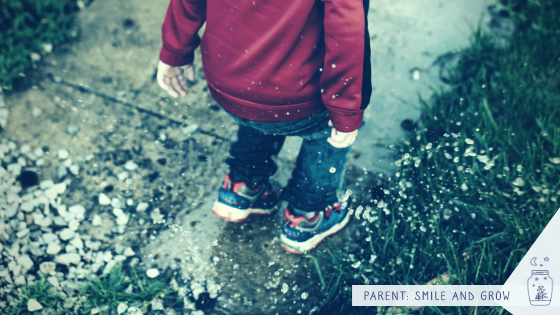 So, thinking about these little episodes, I realized that when we think about making children happy with a toy or a material thing, it's because it's actually more comfortable for us.
We avoid investing in something more: not only our time and our attention, but also letting go of certain barriers.
Certain rules that we self-impose, forgetting about why these rules exist in the first place.
Is it so important that the house is perfect clean? The clothes in perfect shape, that the time of dinner and bedtime are respected by the minute? If we sing out of tune and dance awkwardly, if we show our childish side?
Hey! If you want to receive more inspiring content, it's over here!
Ideas for letting go and making children happy
I have rethought about these episodes, and I have drawn a list of small and big gestures that will make a difference for uplifting everybody's mood, young and adults :
When they show you something, look at them. "Look what I can do mommy!" Describe their movements, their actions aloud, even if it is simply a jump on one foot. Smile and peak of self-esteem assured.

Make a drawing for your kid, too. It can even be a simple card to hide somewhere, depending on her age. My daughter kept her dad's drawing for a long time, she was so proud! Just as that her heart cheered me during several days.

Participate in their activities. If they paint, paint too; when you sing, join the choir; if hearing a cheerful music, dance together;

Dance with us !

If you allow some cartoons time, watch them too. I know that we adults are aiming at these moments to have some quiet time while the kids are busy. But I assure you that your effort will be repaid.

Pick a flower, an acorn, a chestnut… Even a beautiful dry leaf! The children will be so pleased… In the fall, my son collected tons of leaves for us. And even if it annoyed me that he would stop every few minutes to pick them up, I must admit that the gesture filled me with tenderness.

Invent a story whose main characters are your children. That can also be a way to deal with a sensitive subject, such as fear of the dark; or to strengthen a dream of theirs. My son was so happy when I told him the story of the child who wanted to become a fireman!

Let your son send a voicemail to someone he hasn't seen for a while, or have him make a call directly. It serves to tighten the bonds and make him feel important.

Observe aloud all things around you. A beautiful moon, the color of dawn, the birds in flight. I find it so sweet when my kids say out loud, all excited "Look mom, I can see the Moon!!"

Make an unexpected affectionate physical gesture. A caress, a kiss, a hug, like this, out of nowhere. An "I love You" launched while she's telling you all about her day in school.
Connected: These strategies for dealing with a strong-willed child may really be useful for any child !
The adult version : how can I make other people smile?
Observe the person and notice something about her. A new haircut, a dress, an accessory, a particular look.. and tell her. It doesn't have to be a compliment, but a way to show that you really see her.

Every now and then, leave a post-it with a nice message. A simple thank you, or a good morning, even simple things, without necessarily having to compose poems, but a little surprises that cheer up.

Improvise.

Who said surprise trip out door?!

An unplanned meal at the restaurant, a last minute day-trip, a "crazy thing" to be together in a different way.

I think flowers are always nice. Regardless of the occasion, the recipient and the type of flower.

Remember an episode that you experienced together. A funny scene that will make you laugh again, or a moment of complicity. Reliving the memory will do you both good!

Call that person who is dear to you and you never have time to go visit. Without waiting for the right moment.

Observe aloud the beautiful things around you

Same as for children. Make an unexpected affectionate physical gesture. A caress, a kiss, a hug, like this, out of nowhere.

Connected: 5 daily habits to gain your positive energy
Feel like we could keep in contact? Come on in 🙂
A final reflection
I like these words by Gurdjieff, a mystic philosopher of early '900, drawn from the advice he wrote to his daughter.
I find that before teaching this to our children, it could help us !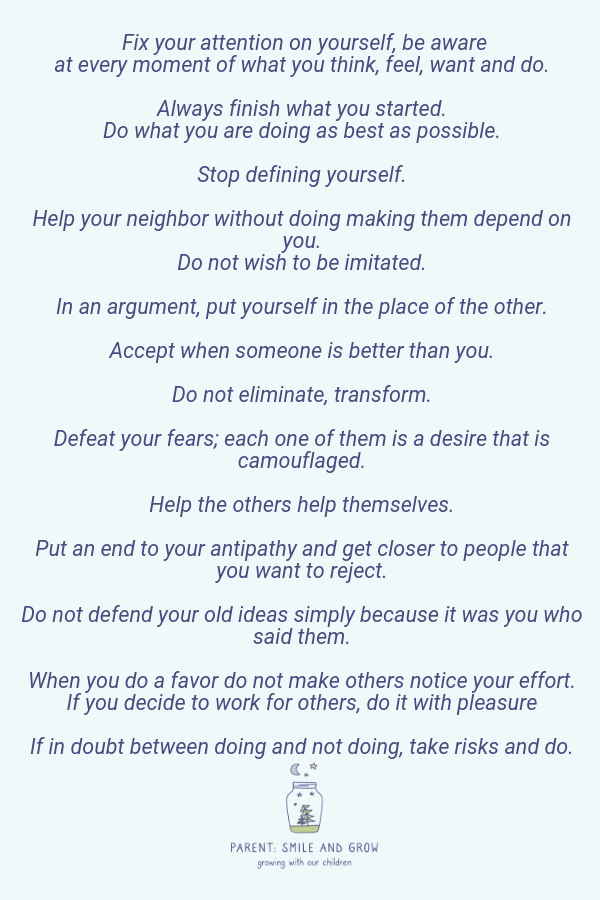 Why not joining our community of parents for mutual support ?
Resources and references
I share with you some articles that I have taken as a reference, and useful readings as always! Links to Amazon in this page are affiliate links.
But first, I ask you 3 things:
Share this post if you found it useful!

What do you think? I'd really like to hear about your experience 🙂

You liked the article and you're interested in joining the club and receiving food for thoughts and inspiring suggestions directly in your inbox? It's over here!
Articles:
Books: